03. Prayers Management
Prayers item list screen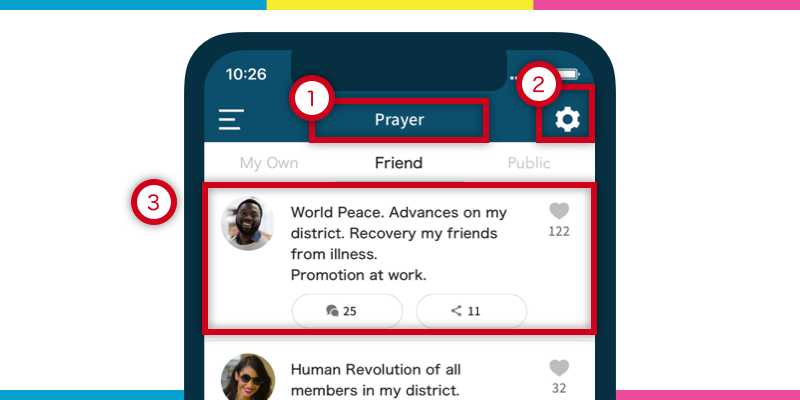 1: Tap Navigation Title, then you can check items whose status are "Completed", "Canceled" and so on.
2: Go to Prayer setting screen.
3: Prayer Item Card
Contents of prayer item card
On the right, there is "Prayed" icon.
By tapping heart icon, you can do "Prayed".
At bottom, "Commented", and "Shared", from left to right.
By tapping comment and share icons, you can go to "comment" and "share" detail screens.
Create new / Edit / Delete
When you tap a prayer item card, you go to prayer detail screen. On the prayer detail screen, you can edit, delete, or check detail of "Prayed", "Commented" and "Shared".
Picture image above is when you do "Create New".
Status management
Prayer item on Daimoku PRO, you can manage 2 types of status such as "Open Status" and "Prayer Status". You can publish or make private on "Open Status", and set "On-Going", "Completed", "Canceled", and "Pending" on "Prayer Status". Items you are currently chanting are basically "On-Going".
The default status when you create new items, are "Private" and "On-Going". This default status is also editable.
Show on Home
Prayers which you want to concentrate on are changed time by time. So, you can pick up some and show on home. You can chant for these items showing on home, without moving any screens.
Review your past prayers
Items whose "Prayer Status" are not "On-Going", are not displayed on default screen, because I think it is better to show only items which you are chanting now. However, maybe we want to review what we were chanting. Don't worry, you can review them by tapping the navigation title and show all other "Prayer Status" items.